Tuesday, May 23, 2017


RANCHI: El comité de área especial de Bihar Jharkhand (BJSAC) de los maoístas del PCI decidió que desde el 23 al 27 de mayo serán días de protesta, seguido por un bandh

(paro)

estatal el 29 de mayo. Los maoístas celebran con júbilo el levantamiento armado de Naxalbari de Occidente
Bengala y exhortó a los campesinos revolucionarios y a las organizaciones de trabajadores de Bihar y Jharkhand a que levantaran su voz contra la represión estatal.
En un comunicado de prensa emitido por BJSAC, los maoístas criticaron al gobierno BJP dirigido por Raghubar Das por enmendar las leyes de protección tribal (Chhotanagpur Tenancy Act y Santhal Pargana Tenancy Act) para permitir que las compañías multinacionales saqueen los recursos.
Los maoístas han declarado a los inversionistas globales como la cumbre de Jharkhand como un esfuerzo concertado del estado.
Invitar a los capitalistas a costa de tribales locales.
"El gobierno de Jharkhand firmó un MoU por valor de Rs 3,10 lakh crore con 210 empresas durante la cumbre de inversionistas organizada en febrero y para darles un derecho sobre tierra y minas, el gobierno de Das enmendó la política y leyes locales que protegían los derechos tribales sobre
Asuntos de tierra ", dijo el portavoz de BJSAC, Gopalji.
La carta dirigida a masas comunes del estado también mencionó el proyecto de corredor industrial distribuido en 1400 kilómetros cuadrados en Ranchi, Ramgarh y Patratu.
"El corredor industrial de Amritsar-Delhi y Kolkata también conectará Deoghar y Hazaribag, donde la tierra de la gente local sería agarrada", decía la carta.
http://timesofindia.indiatimes.com/city/ranchi/red-bandh-to-mark-naxalbari-uprising/articleshow/58760404.cms
Monday, May 22, 2017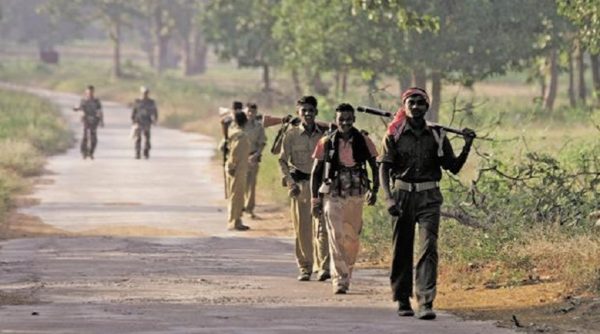 Her ne kadar Hindistan küresel ilişkilerde yüksek bir yer edinme derdinde olsa da, Naxalbari'nin yaktığı ateş 50 yılın ardından hala yanmakta.
"In the struggle to defend the legacy of Leninism . . . [Stalin] proved himself to be an outstanding Marxist-Leninist fighter. . . . Stalin's works should, as before, be seriously studied . . . [to] see what is correct and what is not.
On the Historical Experience of the Dictatorship of the Proletariat (1956)
". . . Stalin emphasized only technology, technical cadres. He wanted nothing but technology, nothing but cadre; no politics, no masses. . . . Stalin speaks only of the production relations, not of the superstructure, nor of the relationship between superstructure and economic base. . . . Stalin mentions economics only, not politics."
Concerning Economic Problems of Socialism in the U.S.S.R. (1958)

কমিউনিস্ট বিপ্লবীদের সারা ভারত কো-অর্ডিনেশন কমিটি গঠন
(নভেম্বর, 1967)
চেয়ারম্যানের তিনটি লেখা
1
চেয়ারম্যানের তিনটি লেখা - জনগণের সেবা করো, ডা: নর্ম্মান বেথুন স্মরণে যে বোকা বুড়ো লোকটা পাহাড় সরিয়েছিল; খুব অল্প কথায় কমিউনিস্টদের আদর্শ, কর্মপ্রণালী ও লক্ষ্য-সম্পর্কে বলা আছে. এই তিনটি লেখা অমূল্য. কাজেই এ তিনটি লেখাকে অধ্যয়ন করা প্রত্যেক কমিউনিস্টদের অবশ্য কর্তব্য. প্রথম কথা, কমিউনিষ্টের সমস্ত কার্যকলাপ হবে একটি লক্ষ্য সাধন এবং তা হোল জনসাধারণের কল্যাণ সাধন করা. কমিউনিস্ট বিপ্লবী, কারণ বিপ্লব ছাড়া জনসাধারণের কল্যাণ করা যায় না. যেহেতু জনতার কল্যাণ করার জন্য বিপ্লব দরকার, তাই বিপ্লবের প্রয়োজনে সে আন্তর্জাতিকতাবাদী. এই আন্তর্জাতিকতা
There is a shadow of something colossal and menacing that even now is beginning to fall across the land. Call it the shadow of an oligarchy, if you will; it is the nearest I dare approximate it. What its nature may be I refuse to imagine. But what I wanted to say was this: You are in a perilous position.

Jack London,

The Iron Heel1

Not only a new administration, but a new ideology has now taken up residence at the White House: neofascism. It resembles in certain ways the classical fascism of Italy and Germany in the 1920s and '30s, but with historically distinct features specific to the political economy and culture of the United States in the opening decades of the twenty-first century. This neofascism characterizes, in my assessment, the president and his closest advisers, and some of the key figures in his cabinet.2 From a broader sociological perspective, it reflects the electoral bases, class constituencies and alignments, and racist, xenophobic nationalism that brought Donald Trump into office. Neofascist discourse and political practice are now evident every day in virulent attacks on the racially oppressed, immigrants, women, LBGTQ people, environmentalists, and workers. These have been accompanied by a sustained campaign to bring the judiciary, governmental employees, the military and intelligence agencies, and the press into line with this new ideology and political reality.
Who forms the social base of the neofascist phenomenon? As a Gallup analysis and CNN exit polls have demonstrated, Trump's electoral support came mainly from the intermediate strata of the population, i.e., from the lower middle class and privileged sections of the working class, primarily those with annual household incomes above the median level of around $56,000. Trump received a plurality of votes among those with incomes between $50,000 and $200,000 a year, especially in the $50,000 to $99,999 range, and among those without college degrees. Of those who reported that their financial situation was worse than four years earlier, Trump won fully 77 percent of the vote.3 An analysis by Jonathan Rothwell and Pablo Diego-Rosell of Gallup, updated just days before the election, indicated that in contrast to standard Republican voters, much of Trump's strongest support came from relatively privileged white male workers within "skilled blue collar industries"—including "production, construction, installation, maintenance, and repair, and transportation"—earning more than the median income, and over the age of forty.4 In the so-called Rust Belt 5 states (Iowa, Michigan, Ohio, Pennsylvania, and Wisconsin) that swung the election to Trump, the Republican vote increased by over 300,000 among voters earning $50,000 or less, as compared with 2012. Meanwhile, among the same demographic group, Democrats lost more than three times as many voters as the number Republicans gained.5 None of this was enough to win Trump the national popular vote, which he lost by almost 3 million, but it gave him the edge he needed in the electoral college.
Nationally, Trump won the white vote and the male vote by decisive margins, and had his strongest support among rural voters. Both religious Protestants and Catholics favored the Republican presidential candidate, but his greatest support of all (80 percent) came from white evangelical Christians. Veterans also went disproportionately for Trump. Among those who considered immigration the nation's most pressing issue, Trump, according to CNN exit polls, received 64 percent of the vote; among those who ranked terrorism as the number-one issue, 57 percent.6 Much of the election was dominated by both overt and indirect expressions of racism, emanating not only from the Republican nominee but also from his close associates and family (and hardly nonexistent among the Democrats themselves). Donald Trump, Jr., in what was clearly a political ploy, repeatedly tweeted Nazi-style white supremacist slogans aimed at the far right. Trump's only slightly more veiled statements against Muslims and Mexicans, and his alliance with Breitbart, pointed in the same direction.7
As the Gallup report pointedly observed:

In a study [Richard F. Hamilton, Who Voted for Hitler?] of perhaps the most infamous [nationalist] party, the geography of voting patterns reveal that the political supporters of Adolph Hitler's National Socialist party were disproportionately Protestants, if living in a rural area, and those in lower-middle administrative occupations and owners of small businesses, if living in an urban area. Thus, neither the rich nor poor were especially inclined to support the Nazi Party, and even among Christians, religious identity mattered greatly.8
The clear implication was that Trump's supporters conformed to the same general pattern. According to the Hamilton study, it is generally believed that "the lower middle class (or petty bourgeoisie) provided the decisive support for Hitler and his party."9 Hitler also drew on a minority of the working class, disproportionately represented by more privileged blue-collar workers. But the great bulk of his support came from the lower middle class or petty bourgeoisie, representing a staunchly anti-working class, racist, and anti-establishment outlook—which nevertheless aligned itself with capital. Hitler also received backing from devout Protestants, rural voters, disabled veterans, and older voters or pensioners.10
The parallels with the Trump phenomenon in the United States are thus sufficiently clear. Trump's backing comes primarily neither from the working-class majority nor the capitalist class—though the latter have mostly reconciled themselves to Trumpism, given that they are its principal beneficiaries. Once in power, fascist movements have historically cleansed themselves rapidly of the more radical lower-middle-class links that helped bring them to power, and soon ally themselves firmly with big business—a pattern already manifesting itself in the Trump administration.11
Yet despite these very broad similarities, key features distinguish neofascism in the contemporary United States from its precursors in early twentieth-century Europe. It is in many ways a unique form, sui generis. There is no paramilitary violence in the streets. There are no black shirts or brown shirts, no Nazi Stormtroopers. There is, indeed, no separate fascist party.12 Today the world economy is dominated not by nation-based monopoly capitalism, as in classical fascism, but a more globalized monopoly-finance capitalism.



Agence Hsinhua, 29 octobre 1967
Dans la propagande qu'elle intensifie depuis quelque temps en faveur d'un pseudo-communisme, la clique dirigeante révisionniste soviétique prétend que la marche arrière qu'elle opère depuis ces dernières années en restaurant le capitalisme sur toute la ligne, « marque une nouvelle étape atteinte par la société soviétique dans sa marche vers le communisme », que le « nouveau système » appliqué par elle et dont le noyau est le principe capitaliste du profit « a toujours été socialiste dans son essence ».
C'est vraiment à croire qu'elle a perdu toute honte, puisqu'elle va jusqu'à couvrir d'un voile de « communisme », de « socialisme » ce qui est du capitalisme pur et simple et qu'elle développe d'ailleurs celui-ci par tous les moyens.
Comme tout le monde le sait, Khrouchtchev, après avoir usurpé la direction du Parti et de l'Etat en Union soviétique, a promu au rang de politique d'Etat l'assimilation des méthodes d'exploitation
Samidoun Palestinian Prisoner Solidarity Network supports and joins in this call for global hunger strike solidarity actions on 25 May.
In order to join the actions on 25 May – marked as a holiday throughout Europe, the Day of Ascension – contact EuroPalestine at info@europalestine.com. We urge you to also contact Samidoun at samidoun@samidoun.net so that we can include your actions on the global list of solidarity events in support of the hunger strike.
On 21 May, Palestinian prisoners entered their 35th day of hunger strike in the
Strike of Freedom and Dignity
. Launched by
1500 of the 6500 Palestinian political prisoners
in Israeli jails on 17 April 2017, the strike has key demands that focus on basic human rights, including an end to the denial of family visits, proper medical care and treatment, the right to access distance higher education and an end to solitary confinement and administrative detention, imprisonment without charge or trial.
On the 35th day of the strike, hunger strikers' health continues to face serious challenges and deteriorating conditions. Hunger striking Palestinian prisoners have been subject to intense repression, including frequent abusive and physically taxing transfers, denial of legal and family visits, confiscation of personal belongings, including the salt that strikers rely on with water to preserve their lives and health, and repressive raids by Israeli occupation forces on a frequent basis.
Meanwhile, the strike's media committee officially declared that
no negotiations have taken place with the leadership
of the strike on the strikers' demands, despite the hunger strike of over one month. The media committee declared that reports of negotiations are rumors being spread by the Israel Prison Service in an attempt to
undermine the morale of the strikers
and public attention and support for the strike at this urgent moment.
The Prisoners' Affairs Commission and Palestinian Prisoners Society
noted the desire of the Israeli government
to end the strike before U.S. president Donald Trump arrives in the region and is attempting to isolate the strike's leadership and neutralize its power through avoiding negotiating directly with the leadership chosen by the prisoners themselves.
A number of hunger strikers are experiencing severe weight loss, fatigue, inability to stand, blurred vision and even vomiting blood. While some strikers have been transferred to civilian hospitals, including a group transferred from Ashkelon prison to Barzilai hospital, many more are being held in prisons with so-called "field hospitals" created to hide the strikers from view or public access, pressure strikers into breaking their strike and threaten the strikers with forced feeding.
Former long-term hunger striker
Samer Issawi
was
transferred to the Ramle prison clinic
on Sunday, 21 May after the deterioration of his health. Meanwhile, hunger striker Mohammed Abu Rub told lawyer
Khaled Mahajna
that 50 hunger strikers are held in Ashkelon prison, where a so-called "field hospital" lacks all medical equipment and only offers glucose to the prisoners who refuse to take it.
Fayha Shalash, the wife of hunger-striking imprisoned journalist
Mohammed al-Qeeq
– himself a former long-term hunger striker –
said that her husband's health
is deteriorating, and that she faces extreme difficulty in obtaining accurate information about her husband's situation due to the policies of the Israel Prison Service. "There is still uncertainty about the whereabouts of my husband, despite the news we receive about his health….he is one of the most affected among the prisoners in this battle of dignity, because Mohammed has not yet recovered from his first and second hunger strikes," she said. Reporting what she had been told by a newly released prisoner, she said that "he is a prisoner who has fought two strikes and always calls for collective hunger strikes, so it is not surprising that he participates in this strike."
Hunger strikers in Ohli Kedar and Eshel prisons issued a message to the world
about their continuing strike
:
To the masses of our heroic Palestinian people, to the free people and revolutionaries:
We are sending this message with you as we confront with our empty stomach the strongest military power in the Middle East, and we challenge them with our hunger and declare before the world that we will die standing and will not kneel. And we affirm to the steadfast masses of our people that we are continuing our strike until the fulfillment of our just and legitimate demands and that all conspiracies will be destroyed on the rock of our will and steadfastness. The cowardly enemy will see us victorious with the help of God and our will and determination.
To the masses of the Palestinian people…in this moment the jailer practices various types of abuse against us. We call upon all the free people of the world to stand by us and expose this brutal enemy, and we assure our people that we are steadfast until victory.
Throughout Palestine, villages, cities and refugee camps are filled with protests, actions and support tents for the strikers. In Jenin on Saturday, 20 May, former prisoner
Lina Jarbouni
addressed the participants in the protest tent, urging the
escalation of the movement
to support the prisoners as they go through this very difficult stage and need popular support more than ever. Jarbouni, freed in April 2017, was the longest-serving Palestinian woman prisoner in Israeli jails. In Ramallah, a
women's march in support of the prisoners
included women from villages throughout the area. Saturday events as called for by the National Committee to Support the Strike also included work to implement the boycott of Israeli goods by traders, merchants and people broadly.
On Sunday, various
cities conducted a partial strike
from 11 am to 2 pm in support of the strike. On Monday,
there is a call for a general strike
throughout occupied Palestine – in the West Bank, Gaza Strip, Jerusalem, and occupied Palestine '48 – with participation from the diaspora, with protests starting at 11 am and a one-day hunger strike from 10 am to 10 pm in a national day of anger and protests in response to the presence of U.S. president Trump. On Tuesday, 23 May, the committee is urging marches from the protest tents in all cities and areas, while on Wednesday, 24 May, they are urging night marches in support of the prisoners. The committee is also calling for popular conferences to support the prisoners on Thursday, 25 May and marches to confrontation points with occupation forces after public prayers on Friday, 26 May.
Meanwhile, many Palestinian organizers were sharply critical of the role of the Palestinian Authority in relation to the prisoners' strike, especially as the PA continues its security coordination with the Israeli occupation despite clear calls for it to end coming from the prisoners' movement and the Committee to Support the Strike.
Abla Sa'adat
, Palestinian activist and the wife of hunger striking imprisoned PFLP leader Ahmad Sa'adat
said in Sakhnin at a prisoner support tent
that PA President Mahmoud Abbas is "wandering from country to country in America, Russia and India as if nothing is happening to our people and our prisoners."
Palestinian lawyer Muhannad Karajeh of the Addameer Prisoner Support and Human Rights Association said that arrests of Palestinian activists by PA security services have escalated, particularly among university students and after solidarity activities supporting the prisoners' hunger strike. Multiple activists arrested by the PA security forces
told Quds News
that they were interrogated about solidarity actions and social media posts in support of the prisoners' hunger strike.
International actions also continued in support of the prisoners' strike.
Labor for Palestine
issued a call for action from workers in support of the prisoners' strike. The Union of Palestinian Communities and Organizations in Europe held its fourth conference in Berlin on Saturday, 20 May, which it dedicated to the prisoners. Protests continued in Parma, Montreal, Derry, Thionville, Auckland, Bristol, Paris, Copenhagen and elsewhere in support of the prisoners' strike. Samidoun Palestinian Prisoner Solidarity Network
urges further international actions and support for the prisoners
at this critical time in their struggle for victory in the Strike of freedom and Dignity.