Farmers debunk claims by the government such as doubling farmers' incomes and other assurances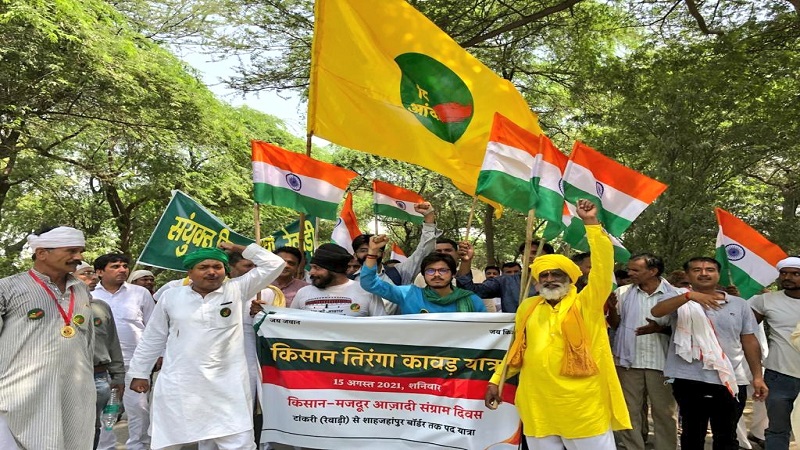 The All India Kisan Sabha (AIKS) on August 15, 2021 announced intentions to expose the "anti-farmer" government, after Prime Minister Narendra Modi spoke about the Centre's contributions for farmers' benefit during his annual speech from the Red Fort.
AIKS General Secretary Hannan Mollah condemned Modi's speech at the Red Fort wherein he said, "the BJP Government has been doing a lot for farmers." Mollah reminded that farmers are still at Delhi borders and other protest sites across India for over nine months.
Over 600 farmers have become martyrs in the struggle. However, their demands for the repeal of the three farm Acts, amendments to the Electricity Act and a call for Minimum Support Price (MSP) as a legal right did not receive due attention during Parliament proceedings.
The AIKS alleged that farmers' incomes dwindled over the last seven years as opposed to government claims of doubling incomes. Farm suicides have increased.
"The Pradhan Mantri Fasal Bima Yojana [PMFBY] which he highlighted as helping small farmers has actually become a monumental failure. Farmers' claims are not being settled although premium is paid by them as well as state and central governments," said Mollah.
Andhra Pradesh, Bihar, Gujarat, Punjab, Telangana, West Bengal and other states have opted out of the PMFBY scheme because of its inefficacy, said the AIKS. Further, the cheap credit available to small farmers excludes millions of tenant cultivators. Even during the Covid-19 pandemic, farmers said they received no relief or loan waiver.
Modi also said that MSP has been increased to 1.5 times the cost of production. However, even at this MSP – that is 40-50 percent below C2+50 percent – procurement for most crops is not assured.
The AIKS said that in 2020, farmers hailing from 11 major agricultural states received about Rs. 1,900 crores less than MSP for crops sold in October and November. Maize prices were hovering around Rs.1,100 and Rs.1,550 per quintal as against the MSP of Rs.1,850 per quintal. In Karnataka, the average price of bajra was 45 percent below MSP in October, 2020. In Madhya Pradesh, jowar fetched 56 percent lesser than MSP in the same month due to failure of procurement mechanism.
Major paddy states reported 15 percent less than MSP procurement and Bihar reported about 50 percent below MSP. If the C2+50 percent policy was assured for paddy, farmers would have received Rs.650 per quintal more than MSP and Rs.1,400 per quintal more than MSP for moong.
"The costs of all agricultural inputs especially the back-breaking increases in diesel, petrol and fertilisers are making agriculture unviable. The PM-KISAN is pittance [sic] when compared to the increase in production costs and loss of incomes for which the BJP Government's policies are solely responsible," said Mollah.
Farmers mark the 74th year of Indian Independence
While government officials gathered for speeches, India's peasantry took out a Kisan Kavad Yatra from Tankri Rewari to Shahjahanpur border. Farmers participating in the 8-9 km padyatra carried the soil of the field in one hand and the water of the village in the other hand to be kept at the Shaheed Smarak near the Shahjahanpur border. Farmers from Uttar Pradesh, Rajasthan, Madhya Pradesh, Delhi etc. were present in this yatra including leaders like Yogendra Yadav and Deepak Lamba.