Under the banner Ferguson is Here! #fergusonéaqui Thousands took the streets in Sao Paulo, Brazil in solidarity with Black Lives Matter protests in the US.
Today's event in Sao Paulo was to highlight the systemic police violence, the high rate of murders and the judicial injustices suffered when these crimes against black communities go unpunished.
In a
report
by the Brazilian Forum of Public Safety published on Nov. 9th 2014, Brazilian police killed 2,212 people in 2013. Twice as many blacks as whites in Brazil were victims of police violence in 2009, according to a
recent study
by economist Daniel Cerqueira.
Another
study
by the University of Sao Carlos showed that even as blacks comprised 34 percent of the population of Sao Paulo, they numbered 58 percent of those killed by police.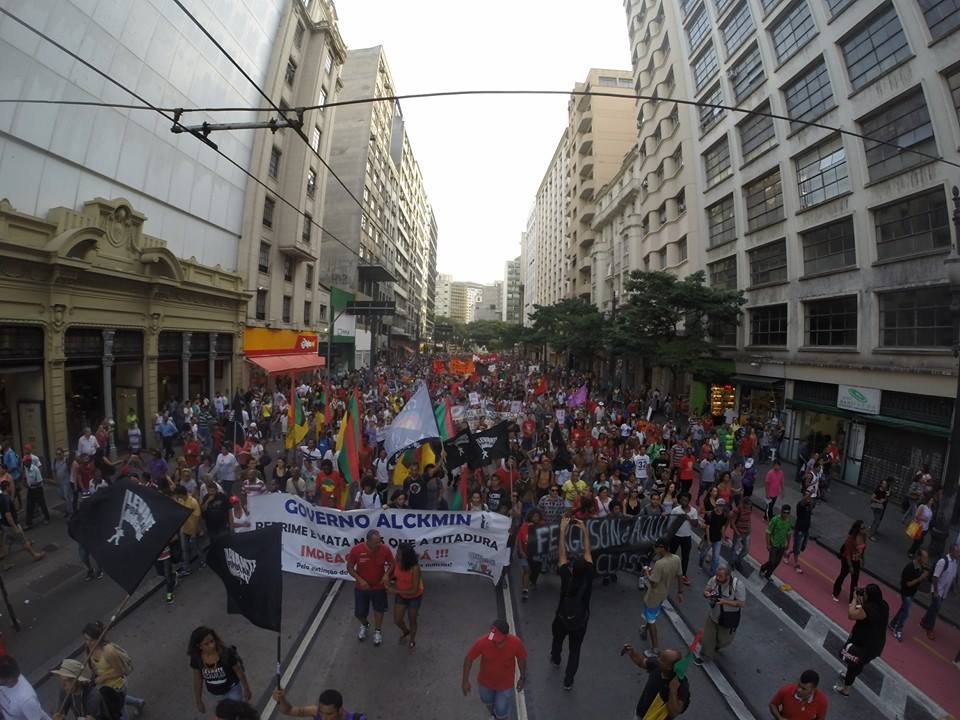 According to a study titled
Mapa da Violência 2012: A Cor dos Homicídios no Brasil
(Map of Violence 2012: The Color of Homicide in Brazil), 272,422 blacks were murdered in Brazil between 2002 and 2010, with an annual average of 30,269 deaths. The number of black homicide victims in Brazil grew by 29.8 percent between 2002 and 2010, while murders of whites declined 25.5 percent to just over 14,000.
Deaths by murder among black youths in Brazil are, proportionally, two and a half times higher than that among young whites. In 2010, the rate of violent deaths of young blacks was 72 for every 100,000 inhabitants, while for young whites it was 28.3 per 100,000 inhabitants.
Source: revolution-news.com