His wife, human rights activist AS Vasantha Kumari has demanded his release and treatment at a private hospital equipped to handle his comorbidities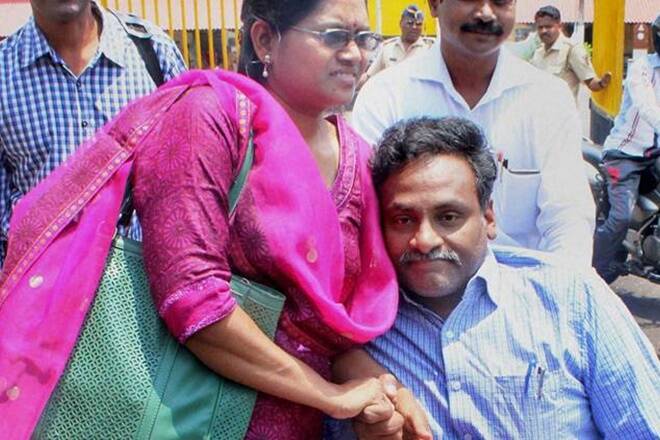 Professor G N Saibaba has tested Covid-19 positive in Nagpur jail where he is an inmate. His wife, human rights activist AS Vasantha Kumari confirmed the news and shared that the former Delhi University professor had managed to call her this morning and shared the news.
"He called around 10 AM today (February 13, Saturday) sounding breathless, and said he is unable to talk comfortably as he had a sore throat and fever, and may soon be taken to hospital," said Vadantha. Prof Saibaba is serving life term in Nagpur Central Prison for alleged Maoist links, had indeed tested positive for coronavirus, and is now being taken for further tests by the jail officials, confirmed news report in The Outlook.
The former Delhi University professor G N Saibaba, suffers from a number of chronic health conditions including severe disability that his wife AS Vantha Kumari fears puts his life at risk. "I demand that he be released immediately. He has so many health issues and I fear that any further infection he can contract in a government hospital can prove fatal. I want him treated in a private hospital, his health and life is the government's responsibility," she added.
According to Vasantha, it is the weekend and while the lawyers may file a legal request on Monday, she is seeking that the government ensure "proper treatment" and has demanded that Saibaba's medical treatment "should be monitored by family members and his lawyers. Kindly admit him in a good private hospital at Nagpur having necessary medical facilities for proper treatment." Vasantha had for long been sharing the concerns about the fragile health of her husband Prof Saibaba who is wheelchair bound and suffers from a number of ailments.
Prof GN Saibaba tests positive for Covid19 in Nagpur Central Jail. His wife has been petitioning the Government for months because he has severe comorbidities and disabilities. pic.twitter.com/HaS3KnnIGF

— andolanjeevi dr. meena kandasamy || இளவேனில் (@meenakandasamy) February 13, 2021
Vasantha had been pleading that the professor be granted parole due to his declining health, "but they keep rejecting it. I am worried," she said. Now, her worst fears seem to have materialised. According to a news report in The Outlook, three other inmates of the jail, apart from Prof Saibaba, have reportedly been infected by coronavirus. The report quoted jail superintendent Anup Kumre who said, "G N Saibaba tested positive for Covid-19 yesterday. He will be taken for a CT scan and other tests, after which doctors will decide whether to shift him to the Government Medical College and Hospital for treatment." The report added that "earlier this week, gangster Arun Gawli and four other inmates of Nagpur jail had tested positive for the infection."
"I want to demand that he be shifted in private hospital, I want to see him once, he called me this morning to give me the news that he tested Covid positive in jail, and even last time he called on February 9 he had said he was feverish and was feeling Covid symptoms. They eventually did the test and the result came last evening (February 12)," said Vasantha.
Related:
Why did Nagpur Central Jail refuse to accept essentials sent for Professor Saibaba?
Concerned about GN Saibaba's frail health after his hunger strike: Vasantha Kumari
Wheelchair-bound paralysed prisoner GN Saibaba was on a hunger strike for 10 days!