Talking on the house arrests of five activists, she said these are the people who are fighting against social injustice.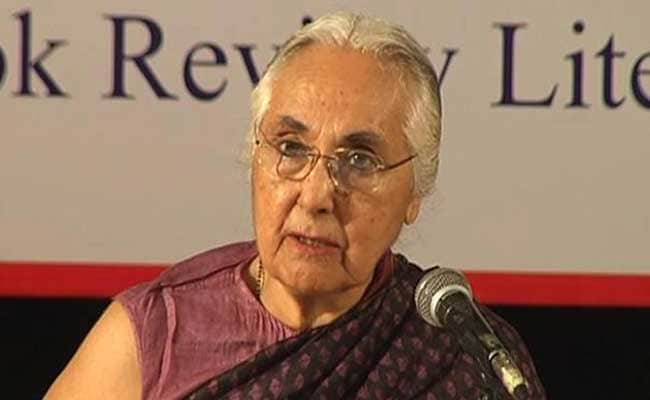 NEW DELHI:
Eminent historian Romila Thapar, who petitioned the Supreme Court against the house arrest of five Left-leaning activists, has asked government to define the phrase 'urban Naxal', saying either they do not understand the meaning of the term or the activists like her do not.
Talking on the house arrests of five activists Varavara Rao, Arun Ferreira, Vernon Gonsalves, Sudha Bharadwaj and Gautam Navlakha, she said these are the people who are fighting against social injustice.
"We were all born Indians, lived as Indians all our lives. These activists are fighting for good causes and terming them urban Naxal is a political move," she said.
"Do they even know what urban Naxal means, first ask the government to define the term urban Naxal and then tell us how we fall into this category. It is very easy to call us urban Naxal. And also tell us how we have become urban Naxal, either the government does not understand the meaning of urban Naxal or we don't understand the meaning of the term," Ms Thapar told PTI.
She was speaking on the sidelines of a press conference held by the petitioners after the Supreme Court judgement on Friday refused to interfere with the arrest of the five rights activists in connection with the Bhima-Koregaon violence case and declined to appoint a Special Investigation Team (SIT) to probe their arrests.
The five activists have been under house arrest since August 29.
Politicians like Maharashtra Chief Minister Devendra Fadnavis have often referred to the five activists as "urban Naxals".
Many social media users have enlisted themselves as "urban Naxals" in a show of solidarity with the arrested Leftwing activists as 'MeTooUrbanNaxal' hashtag trended on Twitter.
They countered that the term 'urban Naxal' was a mere creation of some sections to brand everyone as Naxalites (so that they can be arrested) who have an anti-establishment stance.
Ms Thapar, economists Prabhat Patnaik and Devaki Jain, sociology professor Satish Deshpande and human rights lawyer Maja Daruwala were the petitioners who filed a case in the Supreme Court after the five lawyers, journalists and civil rights activists were arrested across the country on August 28 and charged with abetting acts of terror under the Unlawful Activities (Prevention) Act (UAPA).
"Any democratic institution cannot take law into its hands. It has to go through a certain procedure. Arrests are the last step of a probe it is not the first step of an investigation," she said.
"Arbitrary arrests on implausible charges means the police can walk into our homes and arrest us – either without a warrant or a warrant written in a language we don't understand and then accuse us of activities about which we know nothing," she said.