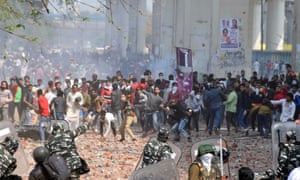 Donald Trump's visit to Delhi has been overshadowed by deadly protests that have continued to engulf India's capital, as Muslim and Hindu groups clashed violently and the death toll rose to eleven.
The bloody violence, which has left the streets of north-east Delhi in flames and continued to escalate on Tuesday, has so far left one policeman and ten civilians dead, and over 150 injured.
Speaking at a press conference in Delhi on Tuesday evening before he left India, Trump said he had not brought up the violence with prime minister
Narendra Modi
, saying he would not comment on "individual cases". I am very worried about the prevailing situation in certain parts of Delhi," Kejriwal tweeted. "All of us together should make all efforts to restore peace in our city. I again urge everyone to shun violence."
A section 144 order, which prevents gatherings of more than four people, was imposed on various areas in the north-east of Delhi where the violence was concentrated and schools in the area have been closed. However, on Tuesday, the clashing religious mobs were once again out on the streets in north-east Delhi.