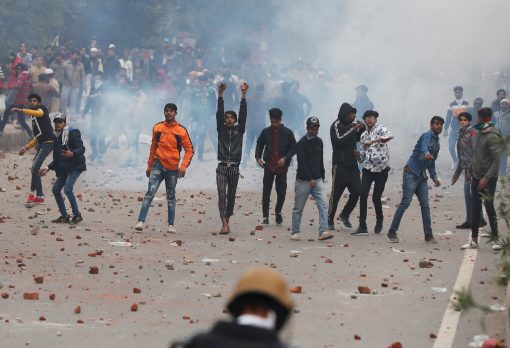 New Delhi: What had been peaceful sit-in protests against the CAA-NRC-NPR triad in various Delhi localities, mainly led by women, suddenly saw violence breaking out on the streets on Sunday and continued through Monday. According to PTI, one constable has died in the violence.
What happened suddenly? More so at a time when the country is hosting US president Donald Trump and security has been beefed up in Delhi where he is supposed to land on Monday.
It is no happenstance that Sunday's "inflammatory" speech by Bharatiya Janata Party (BJP) leader Kapil Mishra against anti-CAA (Citizenship Amendment Act) protesters, leading pro-CAA protesters in Jaffrabad coincided with the outbreak of violence.
In several videos doing the rounds on Monday, senior police personnel can be seen standing and listening to Mishra's speech. Even when Hindutva outfits were seen attacking the largely minority protesters, video footage shows police personnel, too, pelting stones at them, suggesting complicity in triggering violence, leading to reaction from a section of the protesters.
As clashes continued on Monday, the police opened tear gas shell fire to disperse the crowd in Maujpur amid simultaneously efforts to pacify the two groups. Incidentally, in some areas, video footage also showed some police personnel pelting stones.
As the violence threatens to take a communal colour, something that has left Delhi untouched so far, let's take a look at how a peaceful anti-CAA protest turned violent.
On Sunday, BJP leader Kapil Mishra's inflammatory speech against anti-CAA protesters, Northeast Delhi localities—Maujpur, Jaffrabad and Chand Bagh—saw tension and violence leading to heavy stone-pelting between two groups (those who are supporting and opposing the contentious citizenship legislation).
Meanwhile, tension escalated in Northeast Delhi with clashes between two groups continuing and protesters allegedly torching at least two houses and a fire tender in the Jaffrabad and Maujpur areas.
Violence was also reported from the Chandbagh area in Jaffrabad. Protesters at Chand Bagh were lathi-charged at around 12:10 PM. "The police did not even spare women and children; several of them have suffered injuries," some agitators told NewsClick.
It started after Mishra on Sunday staged an aggressive protest near Maujpur red light against the road blockade at Jaffrabad by anti-CAA protesters and gave the Delhi Police "three days' ultimatum" to clear the roads in Jaffrabad and Chand Bagh. "We will be peaceful until (United States President Donald) Trump leaves. We won't listen to you (the Delhi Police) after that if the roads are not cleared. We will have to hit the streets," he was seen telling a senior cop standing next to him.
Three hours ahead of the clashes on Sunday afternoon, Mishra had tweeted, asking people to gather at Maujpur at 3 PM "to give an answer to Jaffrabad". "We will hit the streets in support of Jaffarabad. You all are invited," he had tweeted in Hindi, saying, "They want to cut off 35 lakh people by blocking the roads. Is this the way to protest against anything? We will not allow the area to be turned into Shaheen Bagh".
After he left the spot, provoking the crowd amid aggressive chants of objectionable slogans, heavy stone-pelting began at Maujpur. Several shops and vehicles were vandalised. Fifteen people, including six policemen and two video journalists, suffered injuries. Though the police and paramilitary forces managed to restore calm by late evening, situation continued to remain tense.
Meanwhile, people (thousands of women and men) still continue to protest in the Jaffrabad metro station area against the CAA. After police intervention, one of the carriageways, going towards Gokulpuri and connecting with Wazirabad and GT Karnal Road, was opened and a rope was placed to let the two-way traffic pass.
Clashes broke out at Jaffrabad on Sunday afternoon at around 3:30 pm when a group of people supporting the legislation reached the Maujpur-Baburpur metro station, which is less than a kilometre from Jaffrabad, demanding that the police remove the barricades. The group assembled at Maujpur chowk, next to Jaffrabad, and started shouting slogans. Suddenly, stone-pelting began between the two sides.
Video footage from Maujpur red light showed protesters throwing stones at each other across a road, standing close to the police barricades.
After the situation began getting out of control, the police, half an hour later, said it had to fire several shots of tear gas shells and "use force" to disperse the crowd.
Once the situation was brought under control, the police and paramilitary personnel conducted a flag march in the area and appealed to the people to maintain restraint.
Tension was simmering in Jaffrabad since Saturday night when local anti-CAA protesters blocked the main road. Hundreds of men and women gathered under the metro station in Jaffrabad around 11 PM on Saturday. The police tried to disperse them, but could not evict the protesters. The crowd swelled on Sunday morning. One of the carriageways, going towards Gokulpuri and connecting with Wazirabad and GT Karnal Road, was opened after police intervention and a rope was placed to let two-way traffic pass.
The protesters tried to set up a stage, but the police swiftly removed them. By 10 AM, heavy police and paramilitary forces were deployed in the area.
The clashes, which broke out at around 4 PM at Maujpur and Jaffarabad, continued intermittently till 5 PM. The police then conducted a flag march and created a buffer zone between the two protesting groups, deploying more than 800 personnel to prevent contact.
Though the stone-pelting stopped by around 5:30 PM, provocative slogans continued near the Maujpur-Barbarpur metro station from both the sides. During this, the anti-CAA protesters towards the Jaffrabad side had used ropes to block one side of the road to prevent clashes from breaking out.
Joint Commissioner (Eastern Range) Alok Kumar said, "The situation is under control now, but many people are on the street. We are continuously speaking to the local leaders so that peace prevails in the area."
He further said that four cases have been registered in connection with the incidents of violence that occurred on February 23 at different locations across Delhi.
By Sunday noon, the protest had spread to adjacent localities in Northeast Delhi like Khureji, Maujpur and Chand Bagh. Chand Bagh, which was completely peaceful until then, witnessed stone-pelting in retaliation to the alleged provocation by pro-CAA protesters. But it was quickly contained by elders, according to local sources.
South Delhi's Hauz Rani (also the venue of an indefinite sit-in against the CAA) and Malviya Nagar also witnessed "brutal" police action against anti-CAA protesters last night.
"At first, I could not understand what is happening. After I adjusted my specs to look around, I saw a young policeman, as young as my son, hitting me on my knees and legs," a 60-odd year old lady told NewsClick, narrating the events during the police crackdown on the protesters at Hauz Rani.
Wiping her tears, a 12-year-old girl said, "Police uncle ne bahut maara, hum sirf khade the, hath mein haath pakde ek dusre ka (the police uncle thrashed us, we were just standing, holding each others' hands)."
Trouble started brewing on late Sunday night in another Northeast Delhi locality Karawal Nagar where pro-CAA protesters allegedly set ablaze around nine vehicles and a roadside eatery. The mob did not even allow fire engines to move till the vehicles were completely gutted.
The police, which finally brought situation under control, had to face stones while they were trying to disperse the rioters.
A strong mob of 60 people, according to the police, went on rampage at around 9:45 PM on Dayalpur Road, 6 km away from the Maujpur protest site. There are reports that stones in tractors were offloaded. The rioters pelted stones on windows in residential area.
As reports of violence poured in from areas which so far saw peaceful protests against CAA, mainly led by women, Delhi Chief Minister Arvind Kejriwal urged Lt Governor Anil Baijal and Union Home Minister Amit Shah to restore law and order in the wake of violence in parts of northeast Delhi.
"Very distressing news regarding disturbance of peace and harmony in parts of Delhi coming in.
"I sincerely urge Hon'ble LG n Hon'ble Union Home Minister to restore law and order n ensure that peace and harmony is maintained. Nobody should be allowed to orchestrate flagrations (sic)," he tweeted.
(With inputs from PTI)