Friends and families of undertrial prisoners narrate the worsening condition in Taloja and Byculla prisons, stressing a single fact – jail authorities must allow unconditional bail for all political prisoners!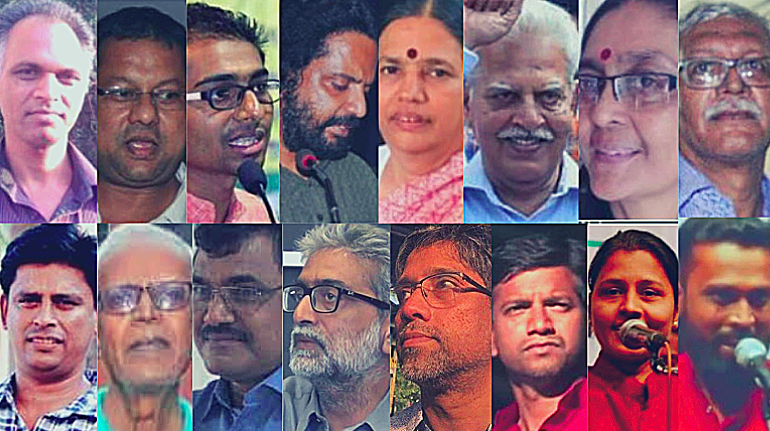 Families and friends of the 15-accused in the Bhima Koregaon (hereafter called BK-15) case vehemently demanded the immediate release of undertrial prisoners from crowded jails, while talking about jail conditions during a press conference on May 15, 2021.
The 15 intellectuals arrested will have completed three years of imprisonment in June this year, based on evidence allegedly planted through malware. Families and supporters of activists, journalists, professors, have been grappling with the lethargy of a system where legal procedure drags on while the BK-15 rot in Taloja and Byculla prisoners.
As the condition persists, kin and well-wishers – Hany Babu's wife Dr Jenny Rowena; Republican Panthers Jatiya Antachi Chalwal activist Harshali Potdar; Fr. Stan Swamy's friend Fr. Joe Xavier; Smita Gupta speaking for Sudha Bharadwaj's family; advocate Surendra Gadling's wife Minal Gadling; Mahes Raut's sister Monali – came together on a video conference to highlight the inhuman conditions in jails during India's Covid-crisis.
"Dr. Hany Babu has a severe eye infection and has been diagnosed with Covid-19. While 84-year-old Swamy is suffering from multiple illnesses due to old age and Parkinson's disease. Bharadwaj has been denied hospitalisation in spite of her multiple co-morbidities. We are calling this urgent press conference demanding their release, at least in the short term, to avoid the escalating pandemic and ensure adequate medical treatment," said organisers.
Accordingly, activist Potdar, who is among the few BK cases accused to have avoided arrest, said that the condition in both aforementioned jails is worsening by day. As per her communications, she said that around 60 jail staff, along with food staff, were reported to have Covid-19. In the case of undertrial prisoners, Covid-tests have not been adequately administered although people such as Hany Babu were reported to be positive. Potdar, too, is recovering from Covid-19.
She accused Taloja jail authorities of mental harassment of both prisoners and family members by not following court orders. Earlier, the Bombay High Court noted the pathetic conditions of jails while looking at the Varavara Rao's case and instructed jail authorities to ensure adequate services.
"But even now, no lab technicians, medical specialists, medicine, nurses, etc are available. There are only three ayurvedic doctors and undertrial prisoners are told to act as attendants. Prisoners have a right to meet family members, to intermingle with other prisoners as well as a right to speedy trials. But none of this happening," she said.
Potdar also mentioned that despite court orders, no family has received a 20-minute video call from any of the BK-15. As for audio calls, people only managed three-to-four-minute calls as opposed to the expected minimum-10-minute calls. Even letters arrive a month late both inside and outside jails after heavy scrutiny by officials. She called for an unconditional bail of all BK-15 arrests as long as the Covid-crisis continues.
Elaborating further on prison issues, Hany Babu's wife Jenny Rowena said that she last contacted her husband on May 7 despite staying in Mumbai with her daughter. The weekly visits were cancelled due to Covid-19 and jail authorities are yet to handover medical reports necessary for further court proceedings. Her brother-in-law Harish MT said that this, coupled with the fact that at least 60 people have been diagnosed as Covid-positive in jail, calls for a thorough scrutiny of jail personnel.
"We know that mobility is restricted in jail. So, it is highly likely that the source of infection is the staff. That is where they should take care, rather than causing such emotional and mental stress on family members," he said.
Building this further, Rowena said, "Babu told me that people in jail always test negative for Covid-19 and once outside the jail, they are declared positive. We had to go to the press and appeal to our State Chief Minister to appeal for medical care. Now the jail superintendent is denying the severe water shortage reported by many inmates."
She mentioned that following pressure from human organisations like Citizens for Justice and Peace (CJP), media and political leaders, Hany Babu has been shifted to the GT Hospital. Fellow inmates spoke about the severity of the infection and swelling pushing against the eye, causing double vision.
Still, Rowena is worried about her husband's health especially after the announcement of his Covid-report and worsening eye-infection. Rowena appealed to all to sign CJP's petition to Maharashtra Chief Minister Uddhav Thackeray requesting release of political prisoners NOW!
"Our lawyer had to make 10-20 calls just to get them to say they will take him to the hospital but it did not happen until recently. We will not allow him to be killed like this. Cannot let them continue to stay in this kind of situation. The Indian constitution and human rights everywhere recognise prisoners as humans. We should not forget that prisoners have all rights to life. Release the BK-15 prisoners on bail so that we can take care of them emotionally, physically," said Rowena, arguing that many countries had already decongested their prisons.
Association of Progressive South Asians Coordinator Akshay Sawant pointed out that such accounts pointed to the mockery of human rights. "Virus prospers in an environment of fear and hatred and thrives in the absence of morality," he said.
Similarly, Fr Xavier, who last saw Fr. Swamy, during his arrest in October, demanded that the state government should immediately test patients and take action against the worsening conditions in jails.
"Father Swamy has an enormous ability to bear pain. He never complains. Yet, yesterday morning he said he is in pain. This shows that his condition is serious. What's going on is a major concern. During the next health meeting, I appeal to the state and jail officials to please present facts showing that you cannot provide medical treatment to prisoners. Get a true report and take action. Only then, prisoners will have the same right as outsiders. Look at their age and what they have done for society. We will take care of them, just tell you are unable to help the situation," said Father Xavier.
Along with medical facilities, he criticised the huge problem of access to information that was later reinforced by other speakers as well. Although registered at Taloja jail as Swamy's contact, Xavier cannot make calls to the imprisoned. He waits for weekly calls by Swamy that he calls "noisy and difficult to hear from." He noted that during the last call, Swamy complained of cough, fever, runny stomach with no respite except for antibiotics provided by the ayurvedic doctors.
"Until May 10, he claimed to be managing but now he is struggling. I am unsure of what will happen to him. As for vaccines, Swamy does not have his aadhar card with him. Does that mean he will not get a vaccine? I am grateful for what the staff did for him but now, they need to let him go," he said.
Later, speaking on behalf of Bharadwaj's family, Smita Gupta said that Bharadwaj's daughter Maaysha still finds it difficult to contact jail authorities. Possibly suffering the worst of this deal, Bharadwaj already suffered from several co-morbidities before the incarceration. Her pulmonary tuberculosis, diabetes, hypertension and the unventilated environment along with poor nutrition make her vulnerable to Covid-19.
"Even water is not properly available. Sudha has rheumatoid arthritis. Her teeth are in such a state she can barely manage to eat. She has lost hair, weight and last year a report showed she is eczemic. Given that the virus is virulent and Byculla jail is crowded, Sudha should not be there," said Gupta.
Earlier, 40 people in the jail tested positive during a rapid antigen test that is known to miss some infected people. During the last call, Bharadwaj talked of worsening health since May 7 when she was vaccinated. She listed severe diarrhoea for three weeks, body weakness, tastelessness. Meanwhile, jail authorities only offered antibiotics despite no response from the body.
"She is so frail, she cannot do her own work. For a person like Sudha to take help to do daily chores like washing clothes, shows a severe situation. When the issue was highlighted on social media, the jail superintendent said Sudha is a habitual complainant. This person has been working for human rights. It is inhuman, callous and what makes us scared that their agenda is to keep prisoners unwell," she said.
She further condemned the lack of transparency when it came to test results or updates regarding the undertrial's medical status. Gupta called it a "case with no trial/ end in sight where they are absolutely bent on this making the final punishment."
Further, advocate Surendra Gadling wife Minal deplored the authorities for not allowing spectacles as well as medicine to be sent to her husband.
"As a human, does he not have a right to live? His spectacle broke [more than a month ago] and his vision worsened. He was worried about cataract but there was no doctor to check on him. Other people who applied for the same received their glasses. Surendra needs glasses to do his required reading as a lawyer. Courts have stopped all cases due to Covid-19. But you are still keeping these people in jail without medical attention. Indirectly you are pushing them towards death," she said.
When she last talked to her husband on May 11, he reported no symptoms of coronavirus. However, Gadling there are about eight people in a single barrack of which some people are Covid-positive. Minal commented that people talk about social distancing and washing hands but in jails, there is no clean water nor any scope for social distancing. Moreover, Surendra suffers from hypertension, diabetes, asthma that makes him prone to cold. Accordingly, he needs relevant medicines and regular check-ups on his blood pressure and sugar levels.
Yet such a basic human right is not addressed. When his vision suffered, Surendra asked for a check-up. He was told all doctors have left the jail due to Covid-19. His inmates finally told him to check the levels himself which have turned out to be very high. Even in July 2020, he showed Covid-symptoms and worried about loose motions and severe cough but did not receive any medication. "Following a call with the superintendent, I was told that officials will change his circle or barrack or even his jail and stop calls with family if the complaints continue. Already, the calls are so short, there is hardly any chance to communicate information about their condition," said Minal.
Further highlighting the barrier in communicating or contacting the undertrial prisoners, inmate Mahesh Raut's sister Monali recollected how she had called the jailer on her brother's behest of medicine. He had asked for a thermometer and oximeters as well but officials said she was not allowed to send such a parcel.
"Still, I am going to try and give the parcel to him tomorrow. There are 700 or more people inside the jail, I don't know how they are coping," said Monali who last talked to her brother on April 22.
Every person at the conference emphasised that "death is staring them in the face." Their anger at frustration against the lack of communication is great and perhaps best summarised in this post by Potdar earlier on her social media:
"In all this, it is certain that a big void will be created in the movement. These people of the movement will be systematically killed in front or behind of our eyes. These men who taught the movement to live will be picked up and killed. Feeling very uncomfortable, annoyed, nauseous. Inside, the silence of the cemetery hid a very big storm. I know for sure, like me, that this is happening inside everyone. I want to live, of course I want to live but not by losing our people like that. I want to live by listening to stories of their experiences and liveliness in the movement, working under their leadership, and growing ideologically through discussions and debates with them. Because these people are the capital of the movement. Trust everyone, including yourself. We have to keep all of them alive, how should we do that can everyone tell?"